Pula
---
AYC Partner Base Pula/Veruda
Pula, with about 57.000 inhabitants the largest city in Istria, can offer its visitors a variety of cultural features. One of the main attractions and also the symbol of the city is the amphitheater, which was built under the Roman emperor Augustus. With a size of about 133 meters by 105 meters, it provided enough space for about 23.000 people. It is considered as one of the largest amphitheaters built in the Roman era. Today's cityscape is varied and marked by different eras. In addition to Roman, also Venetian and Croatian influences are found today. Even Austrian architecture dominates the town. The establishment of the arsenal in Pula in 1856 initiated a 50-year lasting architectural period in which Pula was rapidly growing and many new buildings were constructed. Most were in connection with the expansion of Pula's main military navy base of the k.u.k. fleet: the military hospital and a marine cemetery, barracks, a Hydrographic Institute, public buildings of military and civilian agencies and private villas. It is much to discover!
AYC Partner Base Pula/ Veruda
The AYC partner's office is in Marina Veruda, a big marina located about 3 km south of Pula at the tip of the Istrian peninsula and about 10km from Pula airport.
In the Veruda bay our partner fleet is located, which consists of 7 yachts. From 35 feet (3 cabins) to 50 feet sailing yacht (5 cabins) different types are available. For those who prefer sailing a catamaran we can also offer a Lagoon 440 (4 cabins)!
d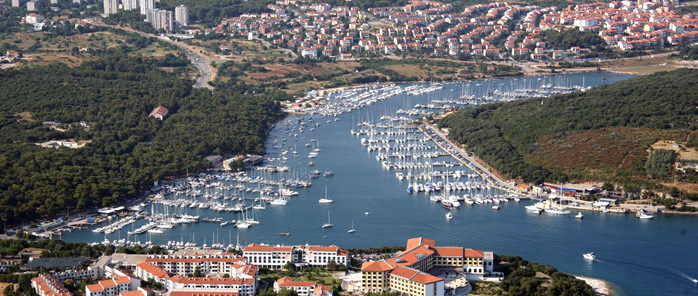 d
The islands, Veliki and Mali Fraškeri (Fraškeric) and Veruda (Fratarski took) are at the entrance to the marina. You can enjoy the view of Punta Verudela with its nice beaches, exclusive hotel Istria and sports and recreational facilities. Looking from our moorings, you will see Bunarina and Ribarska Koliba, the favorite meeting locations of the locals and their friend.
i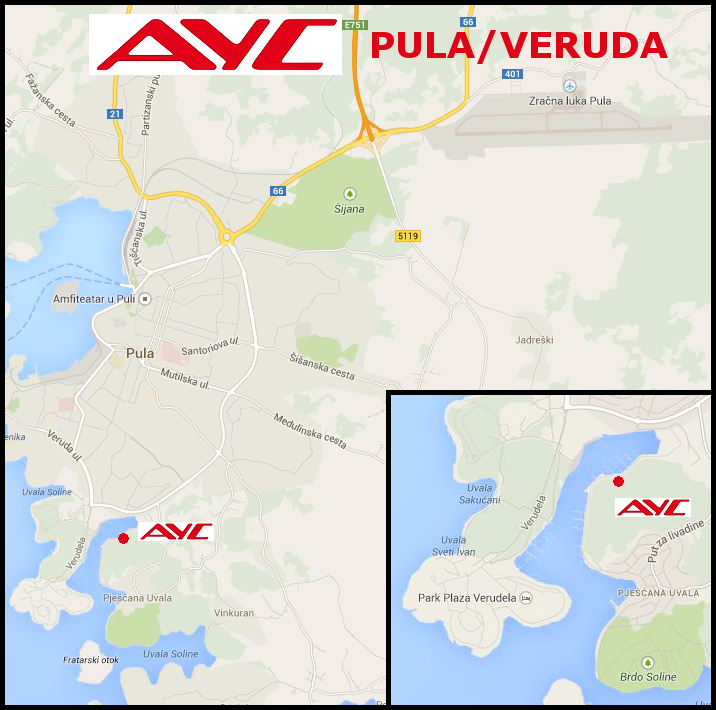 k
AYC PARTNER – MARINA VERUDA
Prekomorskih brigada 12, 52100 Pula/Veruda (landing stage 8)
E-Mail: ayc@ayc.at
+4315330640
(UKW – Kanal 16)