Die große Überfahrt
---
Fahrtenbericht einer 9- tägigen Seereise mit unserer "First Class" von Vodice/ Kroatien nach Marmaris/ Türkei: die große Überfahrt!
Wir freuen uns Ihnen an Hand des Logbuchs von Mr. John Plumb die Überstellung unserer "First Class" First 47.7 von Vodice/ Kroatien nach Marmaris/ Türkei zu dokumentieren. Die Seereise wurde von 4 Männern bewältigt und dauerte 9 Tage (Tag- und Nachtfahrten), in denen ca. 900 Seemeilen zurückgelegt wurden. Unsere "First Class" ist von nun an für mindestens eine Saison in Marmaris zur Vercharterung verfügbar!
Die große Überfahrt:  von Vodice nach Marmaris (3.- 11. Februar 2013)
Day 1
Sunday 3rd February 2013
05.00 We are off. Departing VODICE on Yacht First Class, a First 47.7 which I have been enlisted to help transfer for AYC to a new charter area in Marmaris/ Turkey.
I will endeavor to update my memoirs here when I can. Expecting an 800nm voyage, through the Adriatic, past Italy and Corfu, through the Gulf of Corinth and canal, across the Aegean to Rhodes then Marmaris/ Turkey. 800 miles at 6 knots is 5.5 days of sailing but I am sure there will be adventures along the way, just as Ulysses had, or was it Odysseus? Crew: Frank Honan AYC skipper Joep Winkels IAEA IT technology (Mr. Gadget, boat shop steward as he invented the watch rota we will use) John/Jools (could be useful in Greece) John Plumb retired sailing bum die große Überfahrt
06.20 One hour stopover in Sibenik to complete formalities for exporting a yacht and crew from Croatia. There is currently a low over us moving south towards Dubrovnik.
08.50 (John's last log entry today) NE5 7.5knots 1/2 main, full genoa course 162deg,creaming along!
Day 2
16.30 Arrive Monopoli (south of Bari/ Italy 230.7nm, 36 hours non-stop, my longest passage ever, by a lot. total engine hours 6. The Log doesn't tell you much does it? That's because the logkeeper was a wee bit nauseous. The first day sailing was great, as we went past Komiza on VIS about
16.30pm we were sailing well and the forecast was for the wind to swing NW then SW and moderate. SO the whole team decided they wanted to press on through the night. Unfortunately, as it got dark, I threw up and took to my bunk. The f/c did not come, the Bora did. A Hugo had been blowing for 3 days from SE, making the Adriatic a bit lumpy, then it blew 20-25 gusting 30 knots all night. What idiots go out sailing in THAT? See above crew list. By the morning, when the sun came out, my watch started 8am, I got togged up in fresh smell free gear, took the helm and had 6 hours of NE force 5 to blast south, fantastic. We decided all needed rest so we picked a port that was reachable in daylight and headed for Monopoli (there is only one). Frank had the stick when we got in, we don't do pilot books on this boat because it is all on the GPS gadgets. Anyway, he found the concrete block at -1m, our keel is -2.3m. I have confiscated his deposit, EUR 1500,-. The boat will need to be hauled out and inspected in Marmaris (it will anyway!).
Day 3
Tuesday 4th February
04.20 Depart Monopoli to follow the Italian coast to Brindisi then head for Corfu, next stop? Who knows but Corinth was mentioned, 400 miles away. We might need to stop for fuel though because the forecast is for little wind. Fantastic photos of dawn/sunrise taken by others, I was on the stick and didn't want to lose it getting the camera.
16.00 End of Italy is abeam
17.10 Fantastic sunset, had found the camera by this time.
18.30 became 19.30 (UTC+2) As the iphones lost Italy signal and we entered Greek waters (well, mobile phone reception area)
20.45 Wind at last, SW 6 knots, still motor sailing.
23.55 Arrived on the chart we have for Greece and plotted our first position on something that was not electronic. die große Überfahrt
Day 4
00.01 Came on watch, expecting relief from Frank at 04.00.
06.00 Past Corfu, passing Paxos wind S 11knots apparent sails adding 1knot speed to the 6knots of engine. Frank has appeared after I woke him, he had covered for me the previous night so this was only fair.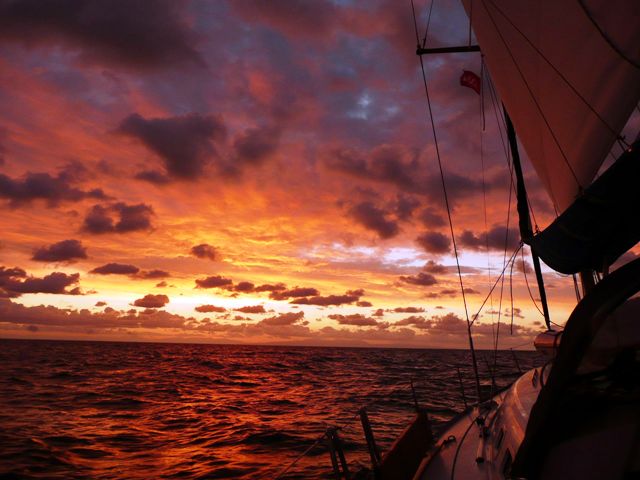 13.00 Approaching Levkas, wind S 17knots app, still motoring, then engine died! We think we may have used all the diesel! Plan, sail for Fiskardo, Kephalonia [sob, sob] arrange diesel and maybe a mechanic. 11 miles to go.
14.00 Added 20 liters from reserve fuel, Frank sucking off the fuel lines. Redirected by Port Authority (VHF Channel 12) to west coast of Ithaca where a fuel tanker will meet us, got there but decided onshore wind made it too tricky to sail into. No depth behind wall, would have had to moor on windward side, SW 12 knots Redirected to other, east side of Ithaca, 8 miles away, wind then died.
17.00 After 5 attempts at sucking off the diesel, engine finally started but due to lack of confidence, we limited ourselves to 1400rpm which gave 3 knots. Joep was in the dinghy at the time and the wind also came from behind, dinghy surfing at 6 knots with engine and Joep holding it down. Why was Joep in the dinghy???
18.15 Moored Frikes, Ithaca, police on the quayside with blue flashing light to guide us in (not a conventionally recognized navigational aid) die große Überfahrt
Day 5
Thursday 7 February 2013
Yesterday while sailing from Italy to the Gulf of Corinth we were motoring at the same time. It appears we sucked air into the fuel system, due to the boat being heeled and therefore lost the engine. We sailed to just outside Fiskardo (just typing that makes me feel emotional, Liz will explain) and called the port authority. Frank got the engine going again but we were not sure how well so we limped along on.
14.00 We eventually came into Frikes on Ithaca where we are now and got more diesel and the police confiscated our papers because we had radioed a distress call. We now need a certificate from the Croatian Embassy to say we are seaworthy before the Capitaineri will release us, they have an entry in their log book and cannot close it without the appropriate documentation. We may also need an inspector to come from Athens, Corfu or if luck, Ithaca. The mechanic who came to check the engine this morning says that in season, he can fix an engine in an hour then it can take 10 hours to complete the EU administration. We will see, this could be a rest day today, if not, it is a 20 hour sail to the Corinth Canal. Frank and Joep have gone to get it sorted. I have found a tavern for sale and am going ashore to look for Meryl. This could be the end of the story (or not). Frikes is beautiful, went for a walk at 6am, there is a taverna/ hotel? For sale on the front, if I meet Meryl Streep I might just jump ship and retire here. (getting emotional again). Penelope's bar was open at 6am, if I'd had my wallet I'd have nipped in for coffee and ouzo. More updates if we get more enforced stopovers with WIFI, otherwise the PC stays in the bag and I AM SAILING!
Still Day 5
We left our heroes, Johnoelius, Joolius, Francis and Johannes (my old man's a Dutchman) stranded on Ithaca listening to Abba music. Frank and Joep went to see the Greek (EU now) port authorities to get permission to leave. 345 Euros later they returned with the ships papers about 1pm. [Editors note from Marmaris]: Apparently, now they tell us, charter companies are well aware that if your fuel tank has been around a few years, then you take it on a 30 hours sail to bounce it about in the Adriatic in a Force 7, the crud in the water layer at the bottom of the tank gets mixed into the fuel and blocks the offtake pipe. We lasted 38 engine hours. Approaching Kefalonia our engine stalled. We thought we had run out of fuel (38 x 6 litres/ hour = 224 litres, we thought we had a 200 litres tank) (When we refuelled, we had used 150 litres out of a 250 litre tank, there was plenty) Our skipper reduced the diesel supply by sucking and blowing different parts of the fuel line without much success but eventually got us going on tickover whereby we limped into Frikes on Ithaca. Unfortunately, one of our crew who had been contacting the port authority to request where we might get more fuel was interpreted by the Greeks as having made a distress call. This resulted in being greeted in Frikes by Mr. Plod the Capitaineri and his flashing blue light, not a recognized navigational aid. It took 130 Euros by a mechanic to fix the problem (cheaper than if we had brought the engine to a Jaguar dealer, I am sure) but a call and several faxes to/from the Croatian Embassy and another 340 Euros to pay for an inspector who didn't come to give us the paperwork required for us to unimpound the boat. That was only days 4/5 of a trip that took 8.5 days. 856 nmiles. At least we have helped the Greek economy by making one crooked inspector richer.
Day 6
01.00 The gods have now passed by and Joep rouses the crew to depart on their longest voyage of the sage, in fact, the longest voyage of their lives.
01.30 Tootling East to cross the Ionian sea into the Gulf of Corinth. Fairly uneventful run on motor, sails and in the afternoon, after the rain had cleared, some excitement when the spinnaker was unwrapped and the crew was shown how it was rigged and hoisted. Oops, now the wind arrived, how do we get it down again? Jools appeared from his cabin and in stocking feet took over the helm and command of the situation. Photo opportunity as we ran down the gulf under full kite, which Frank later remarked, reminded him of a g-string. (There must be strange underwear fetishists onboard; this was after John had likened the ships sun shade, bimini, to one of Liz's)
20.00 hours Canal control was called and gave instructions for First Class to transit the Corinth Canal. Ship under full power steaming towards the red lights of the still closed road bridge. Joep said this was quite normal on Dutch canals. Canal control managed to lower the bridge just in time to avoid an impact and told the boat behind us to speed up (yes, we had pushed into the queue)
21.00 Moored at the dock in Isthmia to pay our transit dues and chat with the boat behind who were delivering from Barcelona to Bodrum. This was the first other yacht we had seen since leaving Vodice!!
21.35 Coffee break over, stage 2 of this particular leg starts. Two crew go to bed leaving John and Joep on the dog watch.
Day 7
Saturday 9th February
07.00 Sunrise finds John at the helm, Frank staying up to watch the sunrise, Jools fast asleep and Joep having a lie in, he was due upstairs at 6am. Uneventful night under genoa and engine, crossing the shipping lanes out of Piraeus. Wind up to 10 knots, so main up to 2nd reef and engine off before Frank retires to his bunk.
14.00 John, still at the helm, mentions he is feeling a bit tired, so the skipper organizes relief from 'no more shifts' Joep while he makes lunch, again. By now we are crossing the Cyclades, wind has strengthened to 20 knots SW, boat surfing on a broad reach at 9 knots. Minor squall on the horizon which is later passed in front of the ship and registered 71knots windspeed on the windex.
17.20 Safely moored in Force 5 at Naxos marina (well, more of a dump), 4 cans of beer in the cockpit. John had gone below for a pee 40 minutes earlier and Jools had to check if he had not died, why would the star helmsman give up his post just before a key manoeuvre? Sage to say, all hands were on deck for a somewhat hairy arrival in port.
21.00 All the main food on board has now been eaten and most of the hard liquor. Crew is crashed in their bunks. 280 miles completed in 40 hours which is the longest voyage we can all remember, ever. Scotland has beaten Italy, France- Wales, England Ireland tomorrow. Flights from Marmaris, 170 miles away, have been requested for Tuesday but the forecast is still a bit too strong for the 'what idiots go out in this? team'. Let's see what tomorrow brings.
Day 8
Sunday 10th February 03.04
Blog updated, I am going back to bed till someone else decides, but it does sound a bit calm outside so it won't be long now.
06.22 No sounds of movement so it's up to me. Kettle on, 3 doors knocked and by 0700 we have cast off. Good bye Naxos, Marmaris is 180nm away, eta 1200hrs tomorrow.
07.30 Wind on the nose for a while, till we bear away round the south of the island. Short period of fast close reaching, followed by thunder storm avoidance manoeuvres then as night came things settled down.
19.00 Phoned Liz and Sally to get updates on Eng v Ire, 12-6 and tell them what a rotten time we are having.
20.00- 23.59 No sleep, guys upstairs are struggling with the waves, everything slamming about. Not quite as bad as night one, when we were in the Adriatic with Ne7, but that night also had Kylie music, same CD, all night.
Day 9
Monday – final day!
00.01- 04.00 Watch interesting; Wind 20knots directly behind, engine on 2400rpm, 2 reefs in main no genoa = 11.5 knots, what a sleigh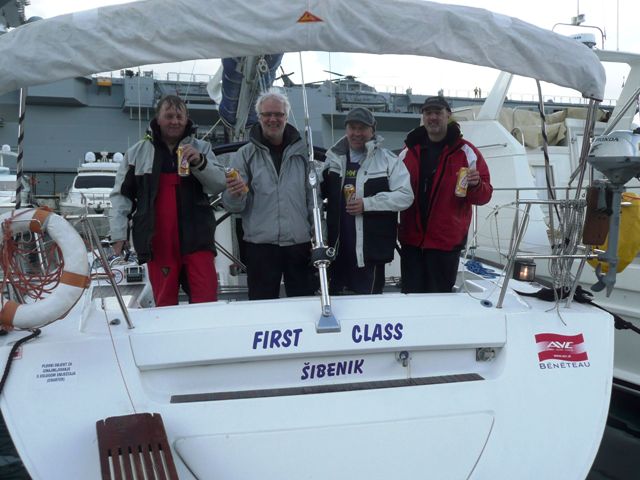 ride.
Completely shattered by 03.00, Joep took over and i fell asleep in the head, before getting into bed. 08.00 Onwards, last leg now, motoring into a head wind, thunderstorms and Turkey. Seems a long drag to get in, but 1130 UTC+2, WE MADE IT! Letztendlich glücklich im Ziel angekommen: Willkommens – Bier in Marmaris/ Türkei ("bewacht" von der italienischen Kriegsmarine, die Zwischenstop auf dem Weg nach Syrien einlegte)
Letztendlich glücklich im Ziel angekommen: Willkommens – Bier in Marmaris/ Türkei ("bewacht" von der italienischen Kriegsmarine, die Zwischenstop auf dem Weg nach Syrien einlegte) Die große Überfahrt war vollbracht!